Inventory
2018 RENN SLSDRR For Sale In Saskatoon, Saskatchewan Canada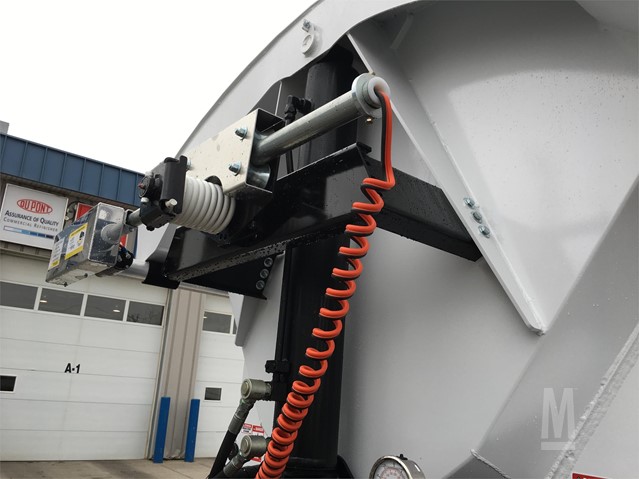 Contact Information
Contact:
Aaron Bartoshewski
Description
Stock # TA21710 2018 RENN Tri-Axle Side Dump,SLD-1701 SLSDRR-AR, Hardox Tub, Electric Tarp, Center-Pin
Capacity: 30 yd/3 TARE: 16560 lbs
GENERAL SPECIFICATIONS
Dimensions: Overall 36'(L) x 125.75"(H) x 8'6"(W), Side Height 112", Water capacity to side wall 24 yd/3.
Tub Box: 33' (L) x 8'6" (W) x 46" (Side H) x 68.5" (End Wall H), 3/16" Hardox 450 Plate, End Plates 1/4" Hardox 450 Plate
Hydraulics: Double acting Hyd Tilt Cylinders 6" x 34.75", HD Flip Lock Assy (4),
Frame: High Tensile 18" Engineered I Beam
King Pin: Setting 18-3/8"
Landing Gear: Two-speed 62,500lb
Axles: 3 – 23,000lb Axles
Suspension: SAF Holland Air Ride with 120" Axle Spread, 15" Ride Height, 77 1/2" Track Width, Wheel Seals Stemco Guardian HP
Brakes: 16.5" x 7" Extended Life Antilock Braking System, Bendix TABS-6 ABS (2 Sensors/1 Modulator), Meritor Auto Slack Adjusters, Spring Brake Pots 30/30 TSE, 23" Cam Length – SAF Holland Wheel End Cast Hub and Drum
Air System: Standard Air Tanks, Pressure Gauge, Manual Override Valve, Serviceable Inline Air Filtration System
Tires: 11R24.5 16 Ply Cooper RoadMaster 230 HH On / Off Road
Rims: Steel Powder-coated 10 bolt 24.5" (inner & outer)
Bumper: Light Bar- HD Tube Mounted @ rear w/ LED lighting; HD Bolt-on Push bar
Data: Meets or Exceeds all Canadian Motor Vehicle Safety Standards

STANDARD FEATURES
Coating Frame: Complete Steel Shot Blasted, PPG DTM Urethane
Coating Box: Epoxy Primer Inside and Out, Top Coat PPG Urethane, All Painted Parts Baked in Heat Ovens
Safety: Reflective Tape
Lighting: HD Sealed Wiring Harness System, LED as per CMVSS with Side Signals
Tarp: Aero SideKick2 Electric Roll Tarp 22oz Mesh
Fenders: Fenders Minimizer Fenders Rear, Alum Checkerplate Front
Mudflaps: RENN Full Width Mudflaps at Rear and Front of Axles

Hydraulic Requirements: Minimum of a 25 gallon tank, 30 gpm pump @ 2500 psi using 1". 45gpm @ 2800 psi @ 1200 rpm for
best response.
Specifications
Category Specific
Chassis
Weights & Dimensions